NJ Senior Center Links
Senior Services

What are Senior Centers
Senior Center Activities
Senior Centers For You
Senior Jobs
Senior Center Programs
Senior Congregate Meals
Meals on Wheels
Senior Center Articles
New Jersey Senior Center
Senior Centers are also called:
Active Adult Center
Senior Citizens Center
Senior Activity Center
Adult Activity Center
Adult Recreation Center
Senior Day Center
Senior Community Center
"I was reluctant to visit the senior center. I'm glad my family encouraged me to visit. I've met some great people." – Sam in New Jersey
New Jersey Senior Center Locations
New Jersey senior center locations include:
Allentown-Bethlehem-Easton, PA-NJ
Atlantic City, NJ
Camden, NJ
Edison, NJ
New York-White Plains-Wayne, NY-NJ
New York-Northern New Jersey-Long Island, NY-NJ-PA
Newark-Union, NJ-PA (Metropolitan Division)
Ocean City, NJ
Philadelphia-Camden-Wilmington, PA-NJ-DE-MD
Trenton-Ewing, NJ
Vineland-Millville-Bridgeton, NJ
Wilmington, DE-MD-NJ
Senior Services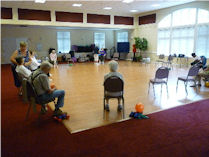 New Jersey Senior Centers | Adult Centers Information (NJ)

New Jersey Senior Centers offer a variety of programs and services to help senior citizens maintain their independence and vitality and provide a place for seniors to have the opportunity to meet other seniors through social interaction.

Programs include activities, educational classes, counseling and support groups, volunteer opportunities, and wellness programs. Many Senior Centers in New Jersey also offer meals, help with financial and medical paperwork, transportation to and from the center, shopping trips, outings, and other social services.

New Jersey Adult Centers for education and activities for those 50+ are for those more active adults. Adult centers are usually part of the Parks & Recreation Departments of city and county.

Hamilton Township Senior Center
409 Cypress Lane
Hamilton, NJ 08619
(609) 890-3502

The Hamilton Senior Center has a great selection of senior services, programs and activities that any active adult is sure to enjoy.


New Jersey Senior Centers List

Bergen County Division of Senior Services One Bergen Plaza, 2nd Floor
Hackensack, NJ 07601-7000 (201-336-7400)

Bergenfield Senior Activity Center Brookside Gardens 293 Murray Hill Terrace 201-387-7212

Cliffside Park Senior Activity Center 550 Gorge Road 201-943-3768

East Rutherford Southwest Regional Senior Activity Center 147 Hackensack Street 201-935-8920

Elmwood Park Senior Activity Center Boulevard & Market Street
201-796-3342

Fair Lawn Senior Center 1105 Gardiner Road 201-796-1191

Fairview Senior Center 53 Grant Street 201-943-5522

Fort Lee Senior Center 319 Main Street 201-592-3670

Garfield Senior Activity Center 480 Midland Avenue 973-478-0502

Hackensack Americas Unidas Multicultural Senior Activity Center
101 Hudson St 201-336-3320

Hackensack Martin Luther King, Jr. Senior Center Varick Memorial AME Zion Church 120 Atlantic Street 201-343-0441

Lyndhurst Senior Center 281 Stuyvesant Avenue 201-896-1629

Midland Park Northwest Senior Activity Center 46-50 Center Street
201-445-5690

New Milford Senior Center 275 River Road 201-599-7565

North Arlington Senior Activity Center St. Paul Episcopal Church 11 York Road 201-998-5636

Northvale Senior Center James F McGuire Center 116 Paris Avenue
201-767-6299

Palisades Park Senior Activity Center 300 Highland Avenue 201-944-5616

Ridgefield Park Senior Activity Center 159 Park Street 201-641-1220

Rutherford 55 Kip Senior Center 55 Kip Street 201-460-1600

Teaneck Senior Services Center Richard Rodda Community Center
250 Colonial Court 201-837-0171

Teaneck Kosher Jewish Community Center 70 Sterling Place 201-837-1422

Wallington Senior Activity Center 24 Union Boulevard 973-777-5815

Westwood TJ Riley Multipurpose Senior Center 100 Madison Avenue
201-666-0840

Essex County Division of Senior Services 50 South Clinton Street
3rd Floor, Suite 3200 East Orange, NJ 07018 (973-395-8375)

Hudson County Office on Aging 595 County Avenue, Building 2
Secaucus, NJ 07094 (201-369-4313)

Hunterdon County Division of Senior, Disabilities and Veterans' Services
4 Gauntt Place, Building 1 Flemington, NJ 08822-2900
(908-788-1361/1362/1363)

SENIOR CENTER Route 31 County Complex 4 Gauntt Place - Building #1
Flemington, New Jersey 08822-2900 908-788-1359

Middlesex County Department of Senior Services John F. Kennedy Square
5th Floor New Brunswick, NJ 08901 (732-745-3295)

Cranbury Senior Community Center 23A North Main Street
Cranbury, NJ 08512 732-395-0900 Ext. 244

East Brunswick Senior Center/Dept. on Aging 3 Jean Walling Civic Center Drive East Brunswick, NJ 08816 732-390-6896

Edison Senior Center 2963 Woodbridge Avenue Edison, NJ 08817
732-248-7345

Highland Park Senior Recreational Center/Office on Aging
220 South 6th Avenue Highland Park, NJ 08904 732-819-0052

Metuchen Senior Center 15 Center Street Metuchen, NJ 08840 732-632-8524

Milltown Senior Center/Office on Aging 60 Violet Terrace Milltown, NJ 08850
732-296-0681

Monroe Senior Center/Office on Aging Municipal Complex 1 Municipal Plaza
Monroe Twp., NJ 08831 732-521-6111

New Brunswick Senior Resource Center 81 Huntington Street
New Brunswick, NJ 08901 732-745-5100

North Brunswick Senior Center 15 Linwood Place North Brunswick, NJ 08902
732-247-0922 Ext. 820

Old Bridge Senior Center/Office on Aging George J. Bush Center for Human Services 1 Old Bridge Plaza Old Bridge, NJ 08857 732-721-5600 Ext. 6600

Piscataway Senior Center/Office on Aging 700 Buena Vista Avenue
Piscataway, NJ 08854 732-562-1133

Tri-County Senior Citizens 450 New Market Road Piscataway, NJ 08854
732-752-1142

Sayreville Senior Center/Office on Aging 423 Main Street Sayreville, NJ 08872
732-390-7058

South Amboy Senior Resource Center/Office on Aging 108 South Stevens Avenue South Amboy, NJ 08879 732-525-5961

South River Senior Center/Office on Aging 55 Reid Street
South River, NJ 08882 732-257-2340

Evergreen Senior Center 400 Inman Avenue Colonia, NJ 07067
732-382-5544

Monmouth County Division of Aging, Disabilities and Veterans Interment
21 Main and Court Center Freehold, NJ 07728 (732-431-7450)

Asbury Park Senior Center 1 Municipal Plaza, Asbury Park, NJ 07712-6271
(732) 988-5252

Bayshore Senior Health, Education & Recreation Center 100 Main Street, Keansburg, NJ 07734-1799 (732) 495-2454

Freehold Township Senior Center 116 Jackson Mills Road, Freehold, NJ 07728
(732) 294-2029

Howell Senior Center Preventorium Road Howell, NJ 07731-0580
(732) 938-4500 or 2550

Keyport Senior Center 110 Second Street, Keyport, NJ 07735-1848
(732) 264-4916

Long Branch Senior Center 85 Second Avenue, Long Branch, NJ 07740-6725
(732) 571-6542

Manalapan Senior Center 211 Freehold Road, Manalapan, NJ 07726
(732) 446-8401

Middletown Senior Center Croydon Hall, 900 Leonardville Road
Leonardo, NJ 07737-1339 (732) 615-2265

Neptune Senior Center 1825 Corlies Avenue, Neptune, NJ 07753
(732) 988-8855

Red Bank Senior Center 80 Shrewsbury Avenue, Red Bank, NJ 07701-1131
(732) 747-5204

Shore Kosher Site Jewish Community Center 100 Grant Avenue,
Deal Park, NJ 07723-1506 (732) 531-9100

Marlboro Kosher Site 103 School Road West, P.O. Box 98
Marlboro, NJ 07746-0098 (732) 536-2307

Eatontown Human Services/Senior Center 68 Broad Street,
Eatontown, NJ 07724-1518 (732) 389-7666

Morris County Division on Aging, Disabilities and Veterans
340 West Hanover Avenue Morristown, NJ 07963-0900 (973-285-6848)

NUTRITION PROJECT Manages 15 Midday Friendship sites throughout the county providing social activities, educational programs, and nutritious, hot noontime and home delivered meals for senior citizens. (973) 285-6857

Ocean County Office of Senior Services 1027 Hooper Avenue, Building #2
Toms River, NJ 08754-2191 (732-929-2091)

Passaic County Department of Senior Services, Disabilities and Veterans' Affairs 930 Riverview Drive, Suite 200 Totowa, NJ 07512 (973-569-4060)

Somerset County Office on Aging and Disability Services
27 Warren Street Somerville, NJ 08876 (908-704-6346)

SENIOR WELLNESS CENTER 202 Mt Airy Road Basking Ridge, NJ
(908) 204-3435

QUAIL BROOK SENIOR CENTER 625 New Brunswick Rd., Somerset, NJ
(732) 563-4213

HILLSBOROUGH SENIOR CENTER 339 South Branch Road, Hillsborough, NJ
(908) 369-8700

RARITAN SENIOR CENTER Somerset County Annex 614 First Ave., Raritan, NJ
(908) 203-0001

MANVILLE SENIOR CENTER South Third Ave., Manville, NJ (908) 526-0175

MONTGOMERY SENIOR CENTER 356 Skillman Road, Skillman, NJ
(609) 466-0846

WARRENBROOK SENIOR CENTER 500 Warrenville Rd., Warren, NJ
(908) 753-9440

Sussex County Division of Senior Services Sussex County Administration Building 1 Spring Street, 2nd Floor Newton, NJ 07860 (973-579-0555)

Union County Division on Aging Administration Building Elizabeth, NJ 07207 (908-527-4870/4872)

Connect to our National database of Senior Centers to see full descriptions, photos, and contact information for more New Jersey Senior Centers. Senior Centers are invited to submit a free listing of their center to this database located at 55 Community Guide.com, another website in the Retirement Media Inc. family of sites.

New Jersey Senior Center Activities

Senior Center Activities

Activities at New Jersey Senior Centers include: Exercise and Fitness programs; Computer classes; Arts and Crafts; Games; various Educational classes; Recreational and Social activities; Health Screenings and services; Special Events and Guest speakers. Senior Centers also offer Dances and Dance classes, Clubs, Group Travel opportunities, and much more.

Senior Centers serve a purpose - that is to help keep seniors active both mentally and physically through a wide range of activities.
Senior Center Activities SeniorCenterDirectory.com
Programs and Activities Explained

Congregate Meals New Jersey

Many New Jersey Senior Centers serve congregate meals such as breakfast and a hot nutritious lunch free or for a small donation. Senior Centers usually ask that meal reservations be made one day in advance. To reserve your congregate meal breakfast or lunch contact your local senior center.

Seniors age 60 and above are eligible to receive free meals in a congregate meal setting regardless of income. These programs contribute greatly to senior nutrition and health; shown by poll responses given by seniors who participate in these programs:

63% say they enjoy the meals
61 % say they enjoy socializing and
57% say the meals are inexpensive.

View All Cities in New Jersey

Absecon, Adelphia, Albion, Allamuchy, Allendale, Allentown, Allenwood, Alloway, Alpha, Alpine, Annandale, Apshawa, Asbury, Asbury Park, Ashland, Atco, Atlantic City, Atlantic Highlands, Atsion, Auburn, Audubon, Augusta, Avenel, Avon By The Sea, Awosting, Bakersville, Barnegat, Barnsboro, Barrington, Basking Ridge, Bayonne, Bayville, Beach Glen, Beachwood, Bedminster, Beemerville, Belford, Belle Mead, Belleville, Bellmawr, Belmar, Belvidere, Bennetts Mills, Bergenfield, Berkeley Height, NJ, Berkeley Heights, Berlin, Bernardsville, Beverly, Blackwood, Blawenburg, Bloomfield, Bloomingdale, NJ, Blue Anchor, Bogota, Boonton, Bordentown, Bound Brook, Braddock, Bradley Beach, Bradley Gardens, Branchburg Park, Branchville, Brick, Bridgeport, Bridgeton, Bridgewater, Brigantine, Brooklawn, Brookside, Browns Mills, Browntown, Brunswick Gardens, Budd Lake, Buddtown, Burlington, Butler, Caldwell, Califon, Camden, Cape May, Cape May Court, Cape May Court House, Carlstadt, Carneys Point, Carteret, Cassville, NJ, Cedar Brook, Cedar Grove, Cedar Knolls, Cedarville, Chatham, Chatsworth, Cherry Hill, Chesilhurst, Chester, Cinnaminson, Clark, Clarksboro, Clarksburg, Clarksville, Clayton, Clementon, Cliffside Park, NJ, Cliffwood, Cliffwood Beach, Clifton, Clinton, Closter, Colesville, Collingswood, Collingwood Park, Cologne, Colonia, Colts Neck, Columbia, Columbus, Convent Station, Cookstown, Cranberry Lake, Cranbury, Cranford, Cream Ridge, Creamridge, Cresskill, Cross Keys, Crosswicks, Darlington, Dayton, Deal, Deans, Deepwater, Delanco, Delaware, Delmont, Demarest, Dennisville, Denville, Deptford, Dividing Creek, Dorothy, Double Trouble, Dover, Dumont, East Brunswick, East Hanover, East Keansburg, East Millstone, East Orange, East Rutherford, East Trenton Heights, East Windsor, Eastampton, Eatontown, Edgewater Park, Edinburg, Edison, Egg Harbor City, Egg Harbor Township, Eldridge Park, Elizabeth, Elmer, Elmwood Park, Elwood, Emerson, Englewood, Englishtown, Erial, Estell Manor, Etra, Everett, Evesboro, Ewan, Ewansville, Ewing, Fair Haven, Fair Lawn, Fairfield, Fairview, Fanwood, Far Hills, Farmingdale, Fenwick, Fieldsboro, Finderne, Flagtown, Flanders, Flemington, Florence, Florham Park, Fords, Forked River, Fort Dix, Fort Lee, Francis Mills, Franklin, Franklin Lakes, Franklin Park, Franklinville, Freehold, Freewood Acres, Frenchtown, Fries Mill, Garfield, Garwood, Gibbsboro, Gibbstown, Gillette, Gladstone, Glassboro, Glen Gardner, Glen Ridge, Glen Rock, Glendora, Glenside, Glenwood, Gloucester City, Golf View, Goshen, Great Meadows, Green Brook, Green Grove, Green Pond, NJ, Green Village, Greendell, Greenwich, Griggstown, Groveville, Hackensack, Hackettstown, Haddon Heights, Haddonfield, Hainesport, Hamburg, Hamilton, Hamilton Square, Hammonton, Hampton, Hanover, Harlingen, Harrington Park, Harrison, Harrisonville, Hasbrouck Heights, Haterson, Haworth, Hawthorne, Hazlet, Helmetta, Hewitt, Hibernia, Highland Lakes, Highland Park, Highlands, Hightstown, Hillsdale, Hillside, Ho Ho Kus, Ho-Ho-Kus, Hoboken, Holmdel, Homestead Park, Hopatcong, Hope, Hornerstown, Howell, Hurdtown, Hurffville, Imlaystown, Independence Corner, Interlaken, Ironia, Iselin, Island Heights, Jacksons Mills, Jacksonville, Jamesburg, Jefferson, Jersey City, Jerseyville, Jobstown, Johnsonburg, Juliustown, Keansburg, Kearny, Keasbey, Kendall Park, Kenvil, Keyport, Kingston, Kinnelon, Kirkwood Voorhe, Kresson, Lafayette, Lake Hiawatha, Lake Hopatcong, Lake Pine, Lake Telemark, NJ, Lakehurst, Lakeside, Lakewood, Lambertville, Lamington, Land of Pines, Landing, Landisville, Lanoka Harbor, Larrabees, Laurel Springs, Laurence Harbor, Lavallette, Lawrenceville, Layton, Ledgewood, Leesburg, Leonardo, Leonia, Liberty Corner, Libertyville, Lincoln Park, Lincroft, Linden, Lindenwold, Lindenwood, Linwood, Little Egg Harbor, Little Falls, Little Ferry, Little Silver, Livingston, Locust, Lodi, Long Branch, Lower Squankum, Lumberton, Lyndhurst, Lyons, Macopin, Madison, Magnolia, Mahwah, Manahawkin, Manalapan, Manasquan, Mantoloking, Mantua, Manville, Maple Shade, Maplewood, Marcella, Margate City, Marlboro, Marlton, Marshalltown, Martinsville, Masonville, Matawan, Mays Landing, Maywood, McAfee, McCoys Corner, Medford, Medford Lakes, Mendham, Menlo Park, Mercerville, Merchantville, Metuchen, Mickleton, Middlesex, Middletown, Midland Park, Milford, Mill Brook, Millburn, Millhurst, Millington, Millstone, Milltown, Millville, Mine Hill, Minotola, NJ, Monmouth Beach, Monmouth Juncti, Monmouth Junction, Monroe, Monroeville, Montclair, Montvale, Montville, Moonachie, Moorestown, Morganville, Morris Plains, Morristown, Mount Arlington, Mount Bethel, Mount Ephraim, Mount Fern, Mount Freedom, Mount Holly, Mount Hope, Mount Olive, Mount Rose, Mount Royal, Mount Salem, Mountain Lakes, Mt Bethel, Mullica Hill, National Park, Navesink, Neptune, Neptune City, Nesco, Neshanic Statio, Neshanic Station, Netcong, New Brunswick, New Egypt, New Milford, New Monmouth, New Providence, New Sharon, New Shrewsbury, New Vernon, Newark, Newcastle, Newfoundland, Newport, Newton, Newtonville, Norma, North Arlington, North Bergen, North Branch, North Branch Depot, North Brunswick, North Church, North Haledon, North Middletown, North Plainfield, North Wildwood, Northfield, Northvale, Nutley, Oak Ridge, Oakhurst, Oakland, Ocean City, Ocean Gate, Ocean Grove, Oceanport, Ogdensburg, Old Bridge, Oradell, Orange, Owens, Palisades Park, NJ, Palmyra, Paramus, Park Ridge, Parsippany, Passaic, Passiac, Paterson, Paulsboro, Pedricktown, Pellettown, Pemberton, Penns Grove, Penns Neck, Pennsgrove, Pennsville, Pequannock, Perth Amboy, Petersburg, Phillipsburg, Pine Brook, Pine Hill, Piscataway, Piseataway, Pitman, Plainfield, Plainsboro, Pleasant Grove, Pleasantville, Pluckemin, Plumbsock, Point Pleasant, Point Pleasantville, Pompton Lakes, Pompton Plains, Port Elizabeth, Port Monmouth, Port Norris, Pottersville, Princeton, Princeton Junction, Prospect Plains, Rahway, Ralston, Ramsey, Rancocas, Rancocas Woods, Randolf, Readington, Red Bank, Red Lion, Repaupo, Richwood, Ridgefield, Ridgefield Park, Ridgewood, Ringwood, River Edge, Riverdale, Riverside, Riverside Park, Riverton, Riviera Beach, Robbinsville, Robertsville, Rockaway, Rocky Hill, Roebling, Roosevelt, Roselle, Roselle Park, Roseville, Ross Corner, Rudeville, Rumson, Runnemede, Rutherford, Saddle Brook, Salem, Sayrebille, Sayreville, Scobeyville, Scotch Plains, Secaucus, Sewell, Shark River Hills, Sharptown, Shiloh, Ship Bottom, Shrewsbury, Sicklerville, Skillman, Slack Woods, Smalleytown, Smithburg, Somerdale, Somers Point, Somerset, Somerville, South Amboy, South Bound Brook, South Branch, South Brunswick, South Plainfield, South River, Southard, Spotswood, Spring Lake Heights, Springdale, Springfield, Springside, Stanhope, Star Cross, Staten Island, Stirling, Stockholm, Stratford, Succasunna, Summit, Sussex, Swedesboro, Tabernacle, Tabor, Tansboro, Taylortown, Teaneck, Tenafly, Tennent, Thorofare, Toms River, Totowa, Towaco, Trenton, Troy Hills, Tuckerton, Turnersville, Union, Union Beach, Union City, Unionville, Upper Saddle River, Van Hiseville, Ventnor City, Vernon, Verona, Victory Gardens, Villas, Vincentown, Vineland, Waldwick, Wallington, Wanamassa, Wanaque, Warrenville, Washington, Watchung, Waterford Works, Waterloo, Wayne, Weehawken, Wenonah, West Berlin, West Caldwell, West Creek, West Freehold, West Long Branch, West Milford, West New York, West Orange, West Paterson, Westfield, Westmont, Westville, Westwood, Wharton, Whippany, White Horse, Whitman Square, Wickatunk, Wildwood, Williamstown, Willingboro, Windsor, Winslow, Woodbine, Woodbridge, Woodbury, Woodbury Heights, Woodbury Hieghts, Woodport, Woods Tavern, Woodstock, Woodstown, Woodvine, Wyckoff, Yardville, Zarephath New Jersey.