NH Senior Center Links
Senior Services

What are Senior Centers
Senior Center Activities
Senior Centers For You
Senior Jobs
Senior Center Programs
Senior Congregate Meals
Meals on Wheels
Senior Center Articles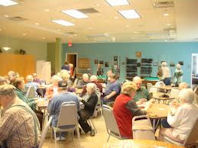 New Hampshire Senior Center
Senior Centers are also called:
Active Adult Center
Senior Citizens Center
Senior Activity Center
Adult Activity Center
Adult Recreation Center
Senior Day Center
Senior Community Center
New Hampshire Senior Center Locations
New Hampshire senior center locations include:
Haverhill-North Andover-Amesbury, MA-NH
Lawrence-Methuen-Salem, MA-NH
Lowell-Billerica-Chelmsford, MA-NH
Manchester, NH
Nashua, NH
Portsmouth, NH-
Rochester-Dover, NH
Senior Services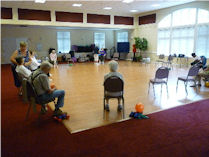 New Hampshire Senior Centers | Adult Centers Information (NH)

New Hampshire Senior Centers offer a variety of programs and services to help senior citizens maintain their independence and vitality and provide a place for seniors to have the opportunity to meet other seniors through social interaction.

Programs include activities, educational classes, counseling and support groups, volunteer opportunities, and wellness programs. Many Senior Centers in New Hampshire also offer meals, help with financial and medical paperwork, transportation to and from the center, shopping trips, outings, and other social services.

New Hampshire Adult Centers for education and activities for those 50+ are for those more active adults. Adult centers are usually part of the Parks & Recreation Departments of city and county.

William B. Cashin Senior Activity Center
151 Douglas Street
Manchester, NH 03102

The William B. Cashin Center is a recently constructed facility with modern amenities that include a line dancing studio, kilns for firing greenware, computer lab, a pleasant indoor waiting area for the public bus stop, easy access to the public library, commercial kitchen, a lounge with fire place, a gift shop and outdoor picnic area. The center has a wide array of classes and activities.

New Hampshire Senior Centers List

Atkinson Atkinson Senior Program 362-5531
Berlin Berlin Senior Center 752-2545
Bristol Bristol Area Senior Center 744-8395
Chester Chester Senior Citizens 206-4786
Claremont Claremont Senior Center 543-5998
Colebrook Colebrook Senior Meals 237-4957
Ctr. Ossipee Ossipee CC Senior Center 539-6851
Dover Dover Community Senior Center 516-6436
Henniker White Birch Senior Center 428-7860
Hopkinton Slusser Senior Center 746-3800
Hudson Hudson Council on Aging - COA 889-1803
Keene Keene Senior Center 352-5037
Lebanon Upper Valley Senior Center 448-4213
Littleton Littleton Area Senior Center 444-6050
Londonderry Londonderry Senior Center 432-7509
Manchester Wm B Cashin Senior Activity Center 624-6533
Nashua Senior Activity Center (Nashua) 889-6155
New London Chapin Senior Center 526-6368
Pelham Pelham Senior Center 635-3800
Penacook Penacook Senior Group 753-9700
Plaistow Vic Geary Senior Center 382-5995
Portsmouth Portsmouth Senior Citizens Center 431-8677
Salem Salem Senior Services/Ingram Sr. Ctr 890-2191
Somersworth Somersworth Filion Senior Center 692-5169
Whitefield Whitefield Senior Meals/Highland House 837-2424
Alton Alton Senior Center 875-7102
Belmont Belmont Senior Center 267-9867
Bradford Mountain View Senior Center 938-2104
Canaan Mascoma Area Senior Center 523-4333
Charlestown Charlestown Senior Center 826-5987
Exeter Exeter Senior Center 778-8196
Franklin Twin Rivers Intergenerational Program 934-4151
Hanover Richard W. Black Recreation & Sr Ctr 643-5531
Laconia Laconia Senior Center 524-7689
Lincoln Linwood Area Senior Services 745-4705
Meredith Interlakes Senior Center/MeredithCC 279-5631
Merrimack Merrimack Senior Citizens Club 424-2100
Moultonborough Moultonboro Meal Site Lyons Club 476-5110
N Conway Gibson Center of Senior Services Inc. 356-3231
N Haverhill Horsemedow Senior Center 787-2539
Newmarket Newmarket Senior Activity Center 659-8581
Newport Newport Senior Center 863-3177
Pittsfield Pittsfield Area Senior Center 435-8482
Plymouth Plymouth Regional Senior Center 536-1204
Raymond Ray-Fre Senior Center 895-3285
Rochester Rochester Senior Citizens Center 332-7845
Suncook Suncook Sr Ctr, St. John Baptist Hall 485-4254

Connect to our National database of Senior Centers to see full descriptions, photos, and contact information for more New Hampshire Senior Center locations. Senior Centers are invited to submit a free listing of their center to this database located at 55 Community Guide.com, another website in the Retirement Media Inc. family of sites.


New Hampshire Senior Center Activities

Senior Center Activities

Activities at New Hampshire Senior Centers include: Exercise and Fitness programs; Computer classes; Arts and Crafts; Games; various Educational classes; Recreational and Social activities; Health Screenings and services; Special Events and Guest speakers. Senior Centers also offer Dances and Dance classes, Clubs, Group Travel opportunities, and much more.

Senior Centers serve a purpose - that is to help keep seniors active both mentally and physically through a wide range of activities.
Senior Center Activities SeniorCenterDirectory.com
Programs and Activities Explained

Congregate Meals New Hampshire

Many New Hampshire Senior Centers serve congregate meals such as breakfast and a hot nutritious lunch free or for a small donation. Senior Centers usually ask that meal reservations be made one day in advance. To reserve your congregate meal breakfast or lunch contact your local senior center.

Seniors age 60 and above are eligible to receive free meals in a congregate meal setting regardless of income. These programs contribute greatly to senior nutrition and health; shown by poll responses given by seniors who participate in these programs:

63% say they enjoy the meals
61 % say they enjoy socializing and
57% say the meals are inexpensive.

View All Cities in New Hampshire

Amherst Auburn Brookline Candia Chester Deerfield Derry East Candia East Derry Epping Francestown Fremont Goffstown Dunbarton Greenfield Greenville Hollis Hudson NH Litchfield Londonderry Merrimack Milford Mont Vernon Nashua New Boston New Ipswich North Salem Pelham Raymond Salem Lyndeborough Temple Wilton Windham Manchester Hooksett Bedford Waterville Valley Andover Ashland Barnstead Belmont Bradford Bristol Campton Canterbury Center Barnstead Center Harbor Center Sandwich Contoocook Danbury East Andover Elkins Epsom Franklin Gilmanton Glencliff Grafton Hebron Henniker Hill Hillsborough Holderness Laconia Gilford Lincoln Lochmere Meredith NH Moultonborough Newbury New Hampton New London Chichester North Sandwich North Sutton Northwood North Woodstock Pittsfield Plymouth Rumney Salisbury Sanbornton South Newbury South Sutton Stinson Lake Suncook Tilton Warner Warren Washington Weare Wentworth Springfield Wilmot Winnisquam Nottingham West Nottingham Woodstock Concord Bow Loudon Keene Antrim Ashuelot Bennington Chesterfield Dublin Sullivan Swanzey Fitzwilliam Gilsum Hancock Harrisville Hinsdale Jaffrey Marlborough NH Marlow Nelson Peterborough Rindge Spofford Stoddard Troy West Chesterfield Westmoreland West Peterborough West Swanzey Winchester Littleton Berlin Bethlehem Bretton Woods Colebrook Errol Franconia Gorham Groveton Jefferson Lancaster Lisbon Sugar Hill Milan Mount Washington North Stratford Pittsburg Randolph Twin Mountain West Stewartstown Whitefield Acworth Alstead Charlestown Drewsville Lempster South Acworth Walpole North Walpole Bath Canaan Claremont Cornish Cornish Flat Enfield Enfield Center Etna Georges Mills Goshen Grantham Guild Hanover Lebanon Haverhill Lyme Lyme Center Meriden Monroe Newport North Haverhill NH Orford Piermont Pike Plainfield Sunapee West Lebanon Woodsville Portsmouth Rollinsford Alton Alton Bay Atkinson Bartlett Center Conway Center Ossipee Center Strafford Center Tuftonboro Chocorua Conway Danville Dover Madbury Durham Barrington East Hampstead East Kingston East Wakefield Eaton Center Exeter Farmington Freedom Gilmanton Iron Works Glen Rochester Greenland Hampstead Hampton Hampton Falls Intervale Jackson Kearsarge Kingston Madison Melvin Village Milton Milton Mills Mirror Lake New Castle New Durham Newfields Newmarket Newton Newton Junction North Conway North Hampton Ossipee Plaistow Rye Rye Beach Sanbornville Sandown Seabrook Silver Lake Somersworth Effingham South Tamworth Strafford Stratham Tamworth Union West Ossipee Wolfeboro Wolfeboro Falls Wonalancet New Hampshire.