Minneapolis Senior Links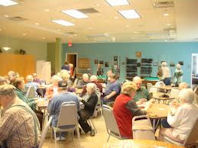 Minneapolis Senior Center
Senior Centers are also called:
Active Adult Center
Senior Citizens Center
Senior Activity Center
Adult Activity Center
Adult Recreation Center
Senior Day Center
Senior Community Center
Senior Services

"I've been visiting the Andover senior center in Minneapolis for years. It has been a Godsend to me especially after my wife passed away. It's my home away from home." Glen in Minneapolis MN

Minneapolis Senior Centers | Adult Centers Information (MN)

Minneapolis Senior Centers offer a variety of programs and services to help senior citizens maintain their independence and vitality and provide a place for seniors to have the opportunity to meet other seniors through social interaction.

Programs include activities, educational classes, counseling and support groups, volunteer opportunities, and wellness programs. Many Senior Centers in Minneapolis also offer meals, help with financial and medical paperwork, transportation to and from the center, shopping trips, outings, and other social services.

Minneapolis Adult Centers for education and activities for those 50+ are for those more active adults. Adult centers are usually part of the Parks & Recreation Departments of city and county.
Delano Senior Center
234 2nd Street North
Delano, MN 55328
(763) 972-0574

The Delano Senior Center offers both a congregate dining and a meals-on-wheel program. A variety of health services are offered including blood pressure clinics, an exercise program, health screenings, health speakers, and health insurance counseling. Activities include educational speakers and classes, special interest groups such as the writers group, card groups, and book club, storytheater, choir, morning coffee, community education, trips, and volunteer opportunities.

Minneapolis Senior Centers Locations List

Minneapolis Metropolitan Area Listings within the State of Minnesota:

Senior Citizens Center Burnsville (952) 707-4120 Dakota County

Family Pathways Senior Service Chisago City (651) 257-7905 Chisago County

Meals On Wheels Chisago City (651) 257-0580 Chisago County

Delano Senior Center Delano (763) 972-0574 Wright County

Meals On Wheels of Hastings Hastings (651) 480-4128 Dakota County

Lakeville Senior Citizens Center Lakeville (952) 985-4622 Dakota County

Meals On Wheels Minneapolis (612) 789-5007 Hennepin County

Senior Citizens Center Minneapolis MN (763) 786-9375 Anoka County

Monticello Senior Center Monticello (763) 295-2000 Wright County

Gillespie Center Mound (952) 472-6501 Hennepin County

Senior Citizens Center Osseo (763) 424-9906 Hennepin County

Senior Citizens Center Osseo (763) 424-7882 Hennepin County

St Michael Senior Center Saint Michael (763) 493-2711 Wright County

Cap Waconia Senior Nutrition Waconia (952) 442-5478 Carver County


Minneapolis Metropolitan Area Listings within the State of Minnesota:

Baldwin Senior Center - Baldwin Baldwin 715-684-2979 St. Croix County

Bay City Jolly Senior Citizens Bay City 715-594-3639 Pierce County

Senior Citizens Center - Ellsworth I Ellsworth 715-273-5873 Pierce County

Hudson Area Senior Citizen Center Hudson 715-386-8709 Saint Croix County

Senior Citizens Center New Richmond 715-246-6221 St. Croix County

Plum City Senior Citizens Center Plum City 715-647-2375 Pierce County

Senior Citizens Center Spring Valley 715-778-5790 Pierce County

Village Of Woodville - Senior Citizens Center Woodville 715-698-2152 St. Croix County

View all Cities/Counties in the Minneapolis Metropolitan Area

(Metro area encompasses parts of the States of Minnesota and Wisconsin)

Andover Anoka Bethel Blaine Centerville Circle Pines Columbia Heights Columbus Coon Rapids East Bethel Fridley Ham Lake Hilltop Lexington Lino Lakes Nowthen Oak Grove Ramsey St. Francis Spring Lake Park - Anoka County, MN

Carver Chanhassen Chaska Cologne Hamburg Mayer New Germany Norwood Young America Victoria Waconia Watertown - Carver County, MN

Center City Chisago City Harris Lindstrom North Branch Rush City Shafer Stacy Taylors Falls Wyoming - Chisago County, MN

Apple Valley Burnsville Coates Eagan Farmington Hampton Hastings Inver Grove Heights Lakeville Lilydale Mendota Mendota Heights Miesville New Trier Northfield Randolph Rosemount South St. Paul Sunfish Lake Vermillion West St. Paul - Dakota County, MN

Bloomington Brooklyn Center Brooklyn Park Champlin Chanhassen Corcoran Crystal Dayton Deephaven Eden Prairie Edina Excelsior Golden Valley Greenfield Greenwood Hanover Hopkins Independence Long Lake Loretto Maple Grove Maple Plain Medicine Lake Medina Minneapolis Minnetonka Minnetonka Beach Minnetrista Mound New Hope Orono Osseo Plymouth Richfield Robbinsdale Rockford Rogers Shorewood Spring Park St. Anthony Village St. Bonifacius St. Louis Park Tonka Bay Wayzata Woodland - Hennepin County, MN

Braham Cambridge Isanti - Isanti County, MN

Arden Hills Blaine Falcon Heights Gem Lake Lauderdale Little Canada Maplewood Mounds View New Brighton North Oaks North St. Paul Roseville Shoreview St. Anthony St. Paul Spring Lake Park Vadnais Heights White Bear Lake - Ramsey County, MN

Belle Plaine Elko New Market Jordan New Prague Prior Lake Savage Shakopee - Scott County, MN

Becker Big Lake Clear Lake Elk River Princeton St. Cloud Zimmerman - Sherburne County, MN

Afton Bayport Birchwood Village Cottage Grove Dellwood Forest Lake Grant Hastings Hugo Lake Elmo Lake St. Croix Beach Lakeland Shores Lakeland Landfall Mahtomedi Marine on St. Croix Newport Oak Park Heights Oakdale Pine Springs Scandia St. Marys Point St. Paul Park Stillwater Willernie White Bear Lake Woodbury - Washington County, MN

Albertville Annandale Buffalo Clearwater Cokato Dayton Delano Hanover Howard Lake Maple Lake Monticello Montrose Otsego Rockford South Haven St. Michael Waverly - Wright County, MN

Clifton Diamond Bluff El Paso Ellsworth Gilman Hartland Isabelle Maiden Rock Martell Oak Grove Prescott River Falls River Falls Rock Elm Salem Spring Lake Spring Valley Trenton Trimbelle Union - Pierce County, WI

Baldwin Cady Cylon Eau Galle Emerald Erin Prairie Forest Glenwood City Glenwood Hammond Hudson Hudson Kinnickinnic New Richmond Pleasant Valley Richmond River Falls Rush River Somerset Springfield St. Joseph Stanton Star Prairie Troy Warren - St. Croix County, WI

Connect to our National database of Senior Centers to see full descriptions, photos, and contact information for more Minnesota Senior Center locations. Senior Centers are invited to submit a free listing of their center to this database located at 55 Community Guide.com, another website in the Retirement Media Inc. family of sites.

Minneapolis Senior Center Activities

Activities for Seniors

Activities at Minneapolis Senior Centers include: Exercise and Fitness programs; Computer classes; Arts and Crafts; Games; various Educational classes; Recreational and Social activities; Health Screenings and services; Special Events and Guest speakers. Senior Centers also offer Dances and Dance classes, Clubs, Group Travel opportunities, and much more.

Senior Centers serve a purpose - that is to help keep seniors active both mentally and physically through a wide range of activities.
Senior Center Activities SeniorCenterDirectory.com
Programs and Activities Explained

Congregate Meals on Wheels Minneapolis

Many Minneapolis Senior Centers serve congregate meals such as breakfast and a hot nutritious lunch free or for a small donation. Senior Centers usually ask that meal reservations be made one day in advance. To reserve your congregate meal breakfast or lunch contact your local Senior Center. Senior Centers also serve as a base of operations for the popular Meals on Wheels program.