MT Senior Center Links
Senior Services

What are Senior Centers
Senior Center Activities
Senior Centers For You
Senior Jobs
Senior Center Programs
Senior Congregate Meals
Meals on Wheels
Senior Center Articles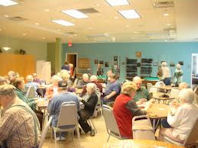 Montana Senior Center
Senior Centers are also called:
Active Adult Center
Senior Citizens Center
Senior Activity Center
Adult Activity Center
Adult Recreation Center
Senior Day Center
Senior Community Center
Montana Senior Center Locations
Montana senior center locations include:
Billings
Bozeman
Butte
Great Falls
Helena
Kalispell
Missoula
Senior Services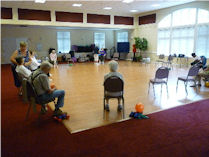 Montana Senior Centers | Adult Centers Information (MT)

Montana Senior Centers offer a variety of programs and services to help senior citizens maintain their independence and vitality and provide a place for seniors to have the opportunity to meet other seniors through social interaction.

Programs include activities, educational classes, counseling and support groups, volunteer opportunities, and wellness programs. Many Senior Centers in Montana also offer meals, help with financial and medical paperwork, transportation to and from the center, shopping trips, outings, and other social services.

Montana Adult Centers for education and activities for those 50+ are for those more active adults. Adult centers are usually part of the Parks & Recreation Departments of city and county.

Bozeman Senior Center
807 N Tracy
Bozeman, MT 59715
406-586-2421
The mission of the Bozeman Senior Center is to meet the current needs of seniors through a wide array of social, educational, health care, and nutritional services for adults age 50 and above. Amenities at the center include a carpenter shop, computer learning center, wellness clinic, library and recreation room, and a second hand store. Lunch is served at the center daily and the Meals on Wheels program is available through the center.

Connect to our National database of Senior Centers to see full descriptions, photos, and contact information for more Montana Senior Center locations. Senior Centers are invited to submit a free listing of their center to this database located at 55 Community Guide.com, another website in the Retirement Media Inc. family of sites.


Montana Senior Center Activities

Senior Center Activities

Activities at Montana Senior Centers include: Exercise and Fitness programs; Computer classes; Arts and Crafts; Games; various Educational classes; Recreational and Social activities; Health Screenings and services; Special Events and Guest speakers. Senior Centers also offer Dances and Dance classes, Clubs, Group Travel opportunities, and much more.

Senior Centers serve a purpose - that is to help keep seniors active both mentally and physically through a wide range of activities.
Senior Center Activities SeniorCenterDirectory.com
Programs and Activities Explained

Congregate Meals Montana

Many Montana Senior Centers serve congregate meals such as breakfast and a hot nutritious lunch free or for a small donation. Senior Centers usually ask that meal reservations be made one day in advance. To reserve your congregate meal breakfast or lunch contact your local senior center.

Seniors age 60 and above are eligible to receive free meals in a congregate meal setting regardless of income. These programs contribute greatly to senior nutrition and health; shown by poll responses given by seniors who participate in these programs:

63% say they enjoy the meals
61 % say they enjoy socializing and
57% say the meals are inexpensive.

View All Cities in Montana

Acton, Adel, Agawam, Albion, Alder, Alzada, Amsterdam, Anaconda, Anceney, Andes, Angela, Antelope, Apgar, Arlee, Armington, Arrow Creek, Ashland, Augusta, Austin, Avon, Babb, Bainville, Baker, Ballantine, Bannack, Barber, Basin, Bearmouth, Beaverton, Belfry, MT, Belgrade, Belknap, Belt, Benchland, Biddle, Big Arm, Big Sandy, Big Timber, Bigfork, Bighorn, Billings, Black Eagle, Blackfoot, Blossburg, Bonner, Boulder, Bowdoin, Box Elder, Boyd, Boyes, Bozeman, Brady, Brandenberg, Bridger, Broadus, Broadview, Broadwater, Brockton, Brockway, Browning, Brusett, Buffalo, Busby, Butte, Bynum, Cameron, Canyon Creek, Capitol, Cardwell, Carlyle, Carter, Cascade, MT, Cat Creek, Chapman, Charlo, Chester, Chico Hot Springs, Chinook, Choteau, Christina, Circle, Clancy, Clinton, Clyde Park, Coalridge, Coalwood, Coburg, Coffee Creek, Cohagen, Collins, Colstrip, Columbia Falls, Columbus, Comanche, Comertown, Condon, Conner, Conrad, Cooke City, Coram, Corbin, Corvallis, Corwin Springs, Crackerville, Craig, Crane, Creston, Crow Agency, Culbertson, Cushman, Custer, Cut Bank, Dagmar, Danvers, Darby, Dayton, De Smet, Dean, Decker, Deer Lodge, Dell, Delphia, Denton, Devon, Dewey, Dillon, Divide, Dixon, Dodson, Drummond, MT, Dunkirk, Eagleton, East Glacier Park, East Helena, Edgar, Ekalaka, Elliston, Elmo, Emigrant, Enid, Ennis, Epsie, Essex, Ethridge, Eureka, Eustis, Fairfield, Fairview, Fallon, Farmington, Fergus, Fife, Fishtail, Flatwillow, Flaxville, Florence, Floweree, Forsyth, Fort Belknap Agency, Fort Benton, Fort Peck, Fort Shaw, Fortine, Foster, Four Buttes, Francis, Franklin, Frazer, Frenchtown, Fresno, Froid, Fromberg, Galata, Gallatin Gateway, Gardiner, Garland, Garneill, Garrison, Garryowen, Geraldine, Geyser, Gildford, Gilman, MT, Glasgow, Glen, Glendive, Glentana, Goldcreek, Grant, Grantsdale, Grassrange, Grayling, Great Falls, Greenough, Greycliff, Hall, Hamilton, Hammond, Hanover, Hardin, Hardy, Harlem, Harlowton, Harrison, Hathaway, Haugan, Havre, Haxby, Hays, Heath, Hedgesville, Helena, Helmville, Heron, Highwood, Hilger, Hill, Hillsboro, Hingham, Hinsdale, Hobson, Hodges, Hogeland, Holt, Homestead, Horton, Hot Springs, Hoyt, Hughesville, Hungry Horse, Huntley, Huson, Hysham, Iliad, Ingomar, Intake, Inverness, Ismay, Jackson, Janney, Jeffers, Jefferson City, Joliet, Joplin, Jordan, Judith Gap, Kalispell, Kevin, Kila, Kiowa, Kirby, Klein, Knowlton, Kolin, Kremlin, Lake McDonald, Lakeside, Lakeview, Lambert, Lame Deer, Landusky, Laredo, Larslan, Laurel, Lavina, Ledger, Lennep, Leroy, Lewistown, Libby, Lima, Limestone, Lincoln, Lindsay, Livingston, Lloyd, Locate, Lodge Grass, Lodge Pole, Logan, Lohman, Lolo, Lolo Hot Springs, Loma, Lonepine, Loring, Lothair, Lozeau, Lustre, Luther, Madoc, Maiden Rock, Malta, Manhattan, Marion, Marsh, Martinsdale, Maudlow, Maxville, McAllister, McCabe, McLeod, Medicine Lake, Melrose, MT, Melstone, Melville, Mildred, Mile City, Miles City, Mill Iron, Miner, Missoula, Mizpah, Moccasin, Moiese, Molt, Monarch, Monida, Montague, Montana City, Moore, Moorhead, Morgan, Mosby, Musselshell, Myers, Nashua, Neihart, Nelson, Niarada, Nohly, Norris, Nye, Oilmont, Olive, Ollie, Olney, Opheim, Opportunity, Oswego, Otter, Outlook, Ovando, Pablo, Paradise, Park City, Park Grove, Peerless, Pendroy, Perma, Philipsburg, Pinnacle, Plains, Plentywood, Plevna, Polaris, Polebridge, Polson, Pompeys Pillar, Pony, Poplar, Portage, Post Creek, Powderville, Power, Pray, Proctor, Quietus, Ramsay, Ramsey, Ravalli, Ravenna, Raymond, Raynesford, Red Lodge, Red Rock, Redstone, Reserve, Rexford, Richey, Richland, Ridge, Ringling, Roberts, Rock Springs, Rocky Boy, Rollins, Ronan, Roosville, Rosebud, Ross Fork, Rothiemay, Roundup, Roy, Rudyard, Ryegate, Saco, Saint Ignatius, Saint Mary, Saint Phillip, Saint Regis, Saint Xavier, Saltese, Sand Coulee, Sand Springs, Sanders, Santa Rita, Sappington, Savage, Savoy, Scobey, Seeley Lake, Shawmut, Sheffield, Shelby, Shepherd, Sheridan, Shirley, Shonkin, Sidney, Silesia, Silver Star, Simms, Simpson, Sioux Pass, Sixteen, Snider, Somers, Sonnette, Springdale, Square Butte, Stanford, Stevensville, Stockett, Stryker, Suffolk, Sula, Sumatra, Sun Prairie, Sun River, MT, Sunburst, Superior, Swan Lake, Sweetgrass, Tampico, Tarkio, Teigen, Terry, Thompson Falls, Three Forks, Toston, Townsend, Tracy, Trego, Trident, Trout Creek, Troy, Turner, Twin Bridges, Twodot, Ulm, Unionville, Ural, Utica, Valentine, Valier, Van Norman, Vananda, Vandalia, Vaughn, Victor, Vida, Virgelle, Virginia City, Volborg, Volt, Wagner, Walkerville, Waltham, Warland, Warmsprings, Warren, Washoe, Waterloo, Webster, Weldon, West Glacier, West Yellowstone, Westby, Wheeler, White Pine, White Sulphur Springs, Whitefish, Whitehall, Whitetail, Whitewater, Whitlash, Wibaux, Willard, Willow Creek, Wilsall, Windham, Winifred, Winnecook, Winnett, Winston, Wisdom, Wise River, Wolf Creek, Wolf Point, Woodside, Worden, Wyola, Yaak, Yakt, Zortman, Zurich Montana.