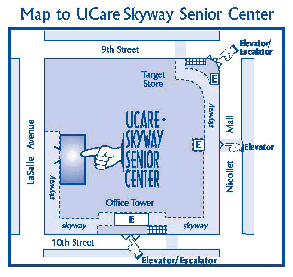 Skyway Senior Center

Skyway Senior Center provides a beautiful 2,000 square foot gathering place for seniors and friends on the Minneapolis downtown skyway on LaSalle between 9th and 10th streets in the Target store building.
Check out the contemporary senior center in the heart of downtown Minneapolis. This attractive center provides a safe, accessible, and friendly place for people age 50 and over to socialize, take a class, exercise, connect to community resources, use a computer, read, relax, and chat with others over a cup of coffee.