NV Senior Center Links
Senior Services

What are Senior Centers
Senior Center Activities
Senior Centers For You
Senior Jobs
Senior Center Programs
Senior Congregate Meals
Meals on Wheels
Senior Center Articles
Nevada Senior Center
Senior Centers are also called:
Active Adult Center
Senior Citizens Center
Senior Activity Center
Adult Activity Center
Adult Recreation Center
Senior Day Center
Senior Community Center
Nevada Senior Center Locations
Nevada senior center locations include:Carson City, NV
Las Vegas-Paradise, NV
Reno-Sparks, NV
Senior Services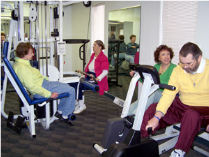 Nevada Senior Centers | Adult Centers Information (NV)

Nevada Senior Centers are in neighborhoods in Clark County, Las Vegas. Tahoe, Carson City, Paradise, Sparks, Pahrump, Henderson NV Lake Tahoe, Lake Havasau, Henderson, and Gardnerville Ranchos. These senior centers provide a variety of programs and services to help seniors over a certain age maintain their independence and vitality.

Programs include activities, educational opportunities, counseling and support groups, volunteer opportunities, and wellness programs. Some senior centers in Nevada also offer meals, help with financial and medical paperwork, transportation to and from the center, shopping trips, outings, friendship and other services to seniors.

The Senior Center of Boulder City
813 Arizona Street (702)293-3320
Boulder City, NV 89005
The Boulder City Senior Center enriches the lives of adults 50 years of age and older in Boulder City by providing Recreation, Nutrition/Food Service, Health Maintenance, Entertainment, and other services.


Nevada Senior Centers List

Clark County Social Services Cambridge Center Senior Citizens Protective Services 1600 Pinto Ln
Las Vegas, NV 89106-4196 (702) 455-8672
Community Action Agency Adult & Senior Services Division Senior Citizens Center 2420 Martin Luther King Blvd
Las Vegas, NV 89152 (702) 647-2536
Community Action Agency Adult & Senior Services Division Senior Citizens Center Las Vegas, NV 89044 (702) 388-2589
East Las Vegas Senior Citizens Center 5700 Missouri Ave Las Vegas, NV 89122 (702) 455-7575
Lyon County Senior Citizens Center 320 Old Dayton Valley Rd
Dayton, NV 89403 (775) 246-6210
Senior Citizens Center 51 Main Reno, NV 89501 (775) 964-2338
Senior Citizens Center 207 Newe Reno, NV 89501 (775) 863-0155
Senior Citizens Center 97 Richards Way Sparks, NV 89431 (775) 353-3110
Senior Citizens Center N E St Virginia City, NV 89440 (775) 847-0957
Senior Citizens Center Elko, NV 89801 (775) 738-3030
Senior Citizens Center 1795 Ruby View Dr # OR
Elko, NV 89801-1614 (775) 738-5911
Senior Citizens Center Mesquite Mesquite, NV 89024 (702) 346-5290
Senior Citizens Center Clark County Public Guardian Las Vegas, NV 89044 (702) 455-4332
Senior Citizens Center Clark County Social Services Las Vegas, NV 89044 (702) 455-4342
Senior Citizens Center Division For Aging Services Las Vegas, NV 89044 (702) 486-3545
Senior Citizens Center Gift & Thrift Shop 901 Beverly Dr Carson City, NV 89706 (775) 883-7887

Connect to our National database of Senior Centers to see full descriptions, photos, and contact information for more Nevada Senior Centers. Senior Centers are invited to submit a free listing of their center to this database located at 55 Community Guide.com, another website in the Retirement Media Inc. family of sites.

Nevada Senior Center Activities

Senior Center Activities

Activities at Nevada Senior Centers include: Exercise and Fitness programs; Computer classes; Arts and Crafts; Games; various Educational classes; Recreational and Social activities; Health Screenings and services; Special Events and Guest speakers. Senior Centers also offer Dances and Dance classes, Clubs, Group Travel opportunities, and much more.

Senior Centers serve a purpose - that is to help keep seniors active both mentally and physically through a wide range of activities.
Senior Center Activities SeniorCenterDirectory.com
Programs and Activities Explained


Congregate Meals Nevada

Many Nevada Senior Centers serve congregate meals such as breakfast and a hot nutritious lunch free or for a small donation. Senior Centers usually ask that meal reservations be made one day in advance. To reserve your congregate meal breakfast or lunch contact your local senior center.

Seniors age 60 and above are eligible to receive free meals in a congregate meal setting regardless of income. These programs contribute greatly to senior nutrition and health; shown by poll responses given by seniors who participate in these programs:

63% say they enjoy the meals
61 % say they enjoy socializing and
57% say the meals are inexpensive.

View All Cities in Nevada

Blue Diamond, Boulder City, Bunkerville, Cal Nev Ari, Cottonwood Cove,Goodsprings, Henderson, Indian Springs, Air Force Aux, Jean town, Las Vegas, Laughlin, Logandale, Mesquite, Moapa, Nellis Air Force Base, North Las Vegas, Overton, Primm, Sandy Valley, Searchlight,Carson City, Cold Springs, Crystal Bay, , Empire, Gerlach, Incline Village, Lockwood, McCarran, Nixon, Reno, Spanish Springs, Sparks, Sun Valley, Verdi, Wadsworth, Washoe Valley, Nevada. Adaven, Alamo, Amargosa Valley, Arden, Arthur, Austin, Babbitt, Baker, Basalt, Battle Mountain, Beatty, Belmont, Beowawe, Black Springs, Blue Diamond, Boulder City, Bunkerville, Cal Nev Ari, Caliente, Carlin, Carp, Carson City, Caselton, Charleston, Cherry Creek, Cobre, Contact, Copperfield, Cosgrave, Cottonwood Cove, Crescent Valley, Crestline, Crystal, Crystal Bay, Current, Currie, Dayton, Deeth, Denio, Dry Lake, Duckwater, Dunphy, Dyer, East Ely, East Las Vegas, Eastgate, Elgin, Elko, Ely, Empire, Eureka, Fallon, Fernley, Flanigan, NV, Frenchman, Gabbs, Gardnerville, Genoa, Gerlach, Glenbrook, Glendale, Golconda, Gold Acres, Gold Point, Goldfield, Goodsprings, Halleck, Harney, Hawthorne, Hazen, Henderson, Henry, Hiko, Humboldt, Imlay, Incline Village, Indian Springs, Ione, Islen, Jackpot, Jarbidge, Jarbridge, Jean, Jiggs, Jungo, Lake Tahoe, Lamoille, Lane, Las Vegas, Laughlin, Lee, Lida, Logandale, Lovelock, Lund, Luning, Manhattan, Mc Gill, McDermitt, McGill, Mercury, Mesquite, Midas, Mill City, Mina, Minden, Moapa, Montello, Mount Charleston, Mount Montgomery, Mountain City, Nelson, Nixon, North Battle Mountain, North Fork, North Las Vegas, Oasis, Oreana, Orovada, Overton, Owyhee, Pahrump, Palisade, Panaca, Paradise, Paradise Valley, Parran, Patrick, Patsville, NV, Pequop, Pioche, Preston, Primm, Prince, Proctor, Pronto, Pyramid, Rachel, Reno, Roach, Round Mountain, Rowland, Rox, Ruby Valley, Ruth, Salt Wells, San Jacinto, Sand Pass, Schurz, Searchlight, Shafter, Silver City, Silver Springs, Silverpeak, Sloan, Smith, Smoke Creek, Sparks, Spring Creek, Stateline, Steptoe, Stillwater, Sulfur, Sulphur, Sun Valley, Sunnyside, Sutcliffe, Tempiute, Thorne, Tippett, Tonopah, Toulon, Toy, Trego, Tuscarora, Unionville, Ursine, Valmy, Verdi, Nevada, Virginia City, Vya, Wabuska, Wadsworth, Walker Lake, Warm Springs, Washoe City, Weed Heights, Wellington, Wells, West Carson City, West Wendover, Wildhorse, Wilkins, Winchester, Winnemucca, Woolsey, Yerington, Zephyr Cove Nevada.