ME Senior Center Links
Senior Services

What are Senior Centers
Senior Center Activities
Senior Centers For You
Senior Jobs
Senior Center Programs
Senior Congregate Meals
Meals on Wheels
Senior Center Articles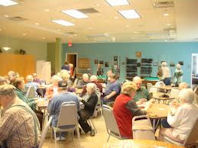 Maine Senior Center
Senior Centers are also called:
Active Adult Center
Senior Citizens Center
Senior Activity Center
Adult Activity Center
Adult Recreation Center
Senior Day Center
Senior Community Center
Maine Senior Center Locations
Maine senior center locations include:
Bangor, ME
Lewiston-Auburn, ME
Portland-South Portland-Biddeford, ME
Portsmouth, NH-ME (Metropolitan NECTA)
Rochester-Dover, NH-ME
Senior Services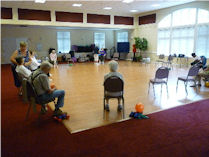 Maine Senior Centers | Adult Centers Information (ME)

Maine Senior Centers offer a variety of programs and services to help senior citizens maintain their independence and vitality and provide a place for seniors to have the opportunity to meet other seniors through social interaction.

Programs include activities, educational classes, counseling and support groups, volunteer opportunities, and wellness programs. Many Senior Centers in Maine also offer meals, help with financial and medical paperwork, transportation to and from the center, shopping trips, outings, and other social services.

Maine Adult Centers for education and activities for those 50+ are for those more active adults. Adult centers are usually part of the Parks & Recreation Departments of city and county.

Hammond Street Senior Center
2 Hammond Street
Bangor, ME 04401
(207) 262-5532
The mission of the Hammond Street Senior Center is to serve the social, intellectual, and physical well-being of individuals age 60 and above who live in the Greater Bangor Region. The center has many daily activities, a fitness room, a computer lab with high-speed internet, various guest speakers, informative presentations, live performances and holiday activities & events.

Connect to our National database of Senior Centers to see full descriptions, photos, and contact information for more Maine Senior Center locations. Senior Centers are invited to submit a free listing of their center to this database located at 55 Community Guide.com, another website in the Retirement Media Inc. family of sites.


Maine Senior Center Activities

Senior Center Activities

Activities at Maine Senior Centers include: Exercise and Fitness programs; Computer classes; Arts and Crafts; Games; various Educational classes; Recreational and Social activities; Health Screenings and services; Special Events and Guest speakers. Senior Centers also offer Dances and Dance classes, Clubs, Group Travel opportunities, and much more.

Senior Centers serve a purpose - that is to help keep seniors active both mentally and physically through a wide range of activities.
Senior Center Activities SeniorCenterDirectory.com
Programs and Activities Explained

Congregate Meals Maine

Many Maine Senior Centers serve congregate meals such as breakfast and a hot nutritious lunch free or for a small donation. Senior Centers usually ask that meal reservations be made one day in advance. To reserve your congregate meal breakfast or lunch contact your local senior center.

Seniors age 60 and above are eligible to receive free meals in a congregate meal setting regardless of income. These programs contribute greatly to senior nutrition and health; shown by poll responses given by seniors who participate in these programs:

63% say they enjoy the meals
61 % say they enjoy socializing and
57% say the meals are inexpensive.

View All Cities in Maine

Alexander, Alfred, Amherst, Andover, Anson, Appleton, Ashland, Ashville, Athens, Atlantic, Auburn, Augusta, Bailey Island, Bangor, Bar Harbor, Bar Mills, Bass Harbor, Bath, Belfast, Maine, Belgrade, Belgrade Lakes, Berwick, Bethel, Biddeford, Biddeford Pool, Bingham, Blue Hill, Boothbay Harbor, Bowdoinham, Bradley, Brewer, Bridgewater, Bridgton, Bristol, Brooks, Brookton, Brownville, Brownville Junction, Brunswick, Bryant Pond, Buckfield, Bucksport, Burnham, Byron, Calais, Camden, Cape Elizabeth, Cape Neddick, Caratunk, Cardville, Caribou, Carmel, Carrabassett, Casco, Chamberlain, Charleston, Chelsea, Cherryfield, Chesuncook, Chisholm, Cliff Island, Clinton, Columbia Falls, Coopers Mills, Corinna, Cornish, Costigan, Cushing, Cutler, ME, Damariscotta, Danforth, Deer Isle, Denmark, Detroit, Dexter, Dickey, Dixfield, Dixmont, Dover-Foxcroft, Dryden, Durham, Eagle Lake, East Boothbay, East Corinth, East Holden, East Lebanon, East Livermore, East Millinocket, East Parsonfield, East Poland, East Waterboro, East Wilton, Eastport, Eddington, Eliot, Ellsworth, Enfield, Etna, Eustis, Exeter, Exeter Corners, Fairfield, Falmouth, Farmingdale, Farmington, Fort Fairfield, Fort Kent, Frankfort, Franklin, Freedom, Freeport, Frenchboro, Frenchville, Fryeburg, Gardiner, Garland, Gilead, Gorham, Gray, Green Lake, Greene, Greenville, Guilford, Hallowell, Hampden, Hampden Highlands, Harmony, Harrington, Hartland, Haynesville, Hinckley, Hollis Center, Houlton, Howland, Hudson, Island Falls, Isle au Haut, Jackman, Jackman Station, Jay, Jefferson, Jonesport, Kenduskeag, Kennebunk, Kennebunkport, Kents Hill, Kezar Falls, Kingfield, Kittery, Kittery Point, Kokadjo, Lake Parlin, Lee, Leeds, Lewiston, Liberty, Lille, Limerick, Limestone, Limington, Lincoln, Lincolnville, Lincolnville Center, Linneus, Lisbon, Lisbon Falls, Litchfield, Littleton, Livermore Falls, Long Island, Long Pond, Lovell, Lowelltown, Lubec, Machias, Macwahoc, Madawaska, Madison, Manchester, Marion, Mars Hill, Masardis, Mattawamkeag, Medomak, Mercer, Mexico, Milbridge, Milford, Millinocket, Milo, Minot, Monmouth, Monroe, Monson, Monticello, Mount Vernon, Naples, New Harbor, New Portland, New Vineyard, Newburgh, Newcastle, Newfield, Newport, Norcross, Norridgewock, North Amity, North Anson, North Berwick, North East Carry, North Edgecomb, North Haven, North Monmouth, North Shapleigh, North Turner, North Waterboro, North Waterford, North Whitefiel, North Windham, Northport, Norway, Oakland, Ogunquit, Olamon, Old Orchard Bea, Old Orchard Beach, Old Town, Oquossoc, Orient, Orono, Orrington, Owls Head, Oxbow, Oxford, Palermo, Paris, Passadumkeag, Patten, Peaks Island, Perry, Phillips, Phippsburg, Pittsfield, Pittston Farm, Plymouth, Poland, Port Clyde, Portage, Portland, Pownal, Presque Isle, Princeton, Randolph, Rangeley, Raymond, Richmond, Rockland, Rockwood, Round Pond, Roxbury, Rumford, Saco, Saint Albans, Saint David, Saint Francis, Salem, Sanford, Scarborough, Searsport, Sebago Lake, Seboeis, Sedgwick, Shapleigh, Sherman Station, Shirley Mills, Skowhegan, Smithfield, Smyrna Mills, Soldier Pond, Solon, Somesville, South Berwick, South Bristol, South China, South Freeport, South Harpswell, South Lagrange, South Paris, South Portland, Southwest Harbor, Springfield, Springvale, Spruce Head, Steep Falls, Stetson, Stockholm, Stockton Spring, Stonington, Stratton, Sweden, Temple, Tenants Harbor, Thomaston, Thorndike, Topsfield, Topsham, Trenton, Troy, Turner, Union, Unity, Upton, Van Buren, Vanceboro, Vassalboro, Vinalhaven, Waite, Waldo, Waldoboro, Walpole, Waltham, Warren, Washburn, Washington, Waterboro, Waterville, Weeks Mills, Weld, Wellington, Wesley, West Baldwin, West Bath, West Buxton, West Enfield, West Forks, West Kennebunk, West Minot, West Poland, West Rockport, West Seboois, Westbrook, Westfield, Whitefield, Whiting, Wilsons Mills, Wilton, Windham, Windsor, Winslow, Winter Harbor, Winterport, Winterville, Winthrop, Wiscasset, Woodland, Woolwich, Wytopitlock, Yarmouth Maine.