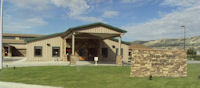 Young At Heart Senior Center
2400 Reagan Avenue
Rock Springs, WY 82901
(307)352-6737
All services at the Young At Heart Senior Center are based on preventive concepts designed to provide fun, laughter, and companionship and foster continued good health. The center has a annual calender of events and a monthly newsletter to keep participants informed of upcoming activities. Lunch is served daily at the center and the Meals on Wheels program is available through the center for those who qualify.